I have a somewhat unhealthy obsession right now with knitting garments with lightweight yarn. I say it's unhealthy because, well... how much time could someone possibly spend knitting ONE thing? Making the choice to knit with anything lighter than sportweight yarn means that you have committed to at LEAST two months on one garment, and only if you knit every day, every where.
I think part of the reason I do this is that I'm a sucker for the yardage you get out a skein of laceweight. The hank below has a whopping 1531 yards in it. Dats a lotta yarn, dudes. And I can get a cardigan out of that, if you look at Hannah Fettig's designs like
Wispy
and
Featherweight
.
Except I knit a
Featherweight a couple of years ago
, and well... it took FOREVER.
And then there's this skein of BFL lace from At Knit's End (who is no longer dyeing yarn). It's in a gorgeous blend of greys that make me sigh and smile each time I pick it up. 880 yards there. Lacy top: possible.
And, in keeping with the grey theme, I have this of Paternayan Lace, 760 yards of possibilities. I probably couldn't get a top of of it, but a cropped cardi or bolero is a possibility.
It's not helping that there are so many beautiful garment patterns out there made with laceweight yarn. I'm fascinated by Joanne Lew-Goltz's Pianissimo, with it's drapey neck and flowy fabric. I've been daydreaming about making a version with some kind of sleeve on it...
Image from Joanne Lew-Goltz's Ravelry page
I've also been drooling over Melissa Werhle's
Chiton Pullover
, which I think would be beautiful in a laceweight yarn:
And I've also discovered how beautiful laceweight looks in a cable. Knittingfool.com has a huge library of knit stitches, most of which are knit in lightweight yarns. It's there that I began my obsession with this
wide cable
: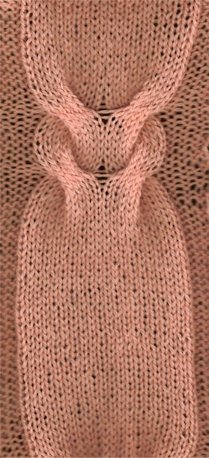 Which I am trying to incorporate somehow into this kind of shoulder/neck combination that I saw on
Indigorchid's
blog:
So, what do I have to show for all these daydreams, drawings and clippings? Well... ehm... hmmm....
You could say I'm a dreamer, not a knitter... at least at the moment. I'll get to it sometime, after I finish whatever that is going to be above. I'm not even sure what it's going to be myself, but it'll be something... sometime... Better go knit...